By Karen M. Johnson
When it came time for Anthony McCarthy to name a horse he bought at Saratoga's 2010 Fasig-Tipton Select Yearling Sale, the owner mulled over many options. But one thing was for certain: McCarthy was going to choose a name to honor his father, whose health at that time was rapidly declining due to pancreatic cancer.
"When my father was in his last days, my brother, John, and I were deciding upon a name for the Langfuhr yearling whose mother was Seek to Soar," McCarthy said. "[John] was adamant we do something that reminded us of our father. We probably passed around 20 names between us in emails and Spring to the Sky was the one that stuck."
Spring to the Sky, who was purchased for $55,000 and earned $710,905 during his robust nine-year campaign on the New York Racing Association circuit, did a fantastic job of honoring the memory of Anthony McCarthy Sr.
The gelding raced until the age of 10, and following his 55th career start this past summer, he was retired. And now the multiple stakes-winning Spring to the Sky is a resident of TAA-accredited ReRun in East Greenbush, New York.
The NYRA and its horsemen are committed supporters of the TAA. One of NYRA's newest avenues of support for the TAA was created in collaboration with the New York Thoroughbred Horsemen's Association. With the start of the 2019 Saratoga Race Course meet, NYRA began placing a 1.5 percent assessment fee on all claimed horses at its tracks with the proceeds going to the TAA and the NYTHA-administrated retirement program, TAKE THE LEAD (read more about that initiative here).
NYRA-based trainer Rick Schosberg, who oversees TAA aftercare partner TAKE THE LEAD, was instrumental in finding Spring to the Sky a home at ReRun.
McCarthy, who grew up a stone's throw from Saratoga Race Course, said he owns horses because of the "joy and thrill" his runners provide him with, not because he views them as a money-making enterprise. He had zero interest in running Spring to the Sky in lower-level claiming races, because he said he wanted to be in control of the horse's future after his racing days were over. When the Kentucky-bred began showing signs of needing the perfect set-up in his races to be competitive, McCarthy and Bruce Brown, Spring to the Sky's trainer throughout his career, decided it was time for retirement.
"Spring to the Sky treated us well. He was so very, very good to us," McCarthy said. "From age 2, right through age 10, he raced every year. He didn't always run his race, but he came to race. He loved to race. We treated him well and didn't over-race him and he returned the favor by giving us a lot of thrills.
"It was important to retire him to a home where he would be happy," he continued. "A lot of people knew Spring to the Sky because he was around for so long. He's not like Forego, or some of these legendary horses, but he had a base of people who knew who he was and liked his fieriness and his gameness."
The original plan had been to retire Spring to the Sky to a new branch of TAA-accredited Old Friends—an organization where Thoroughbreds find themselves in a forever home and visitors can meet the former racehorses. A second New York branch of Old Friends was to open its doors near Saratoga Springs this year. While waiting for the newest edition of Old Friends to launch, Brown sent Spring to the Sky to Mike Schrader's In Front Training Center in Ghent, New York.
"Mike said Spring to the Sky actually was acting like he was kind of bored in the field, said he was chewing on the fence and acting like he wanted to do something," Brown said. "The Old Friends facility was delayed in opening, so we decided to let him be retrained [at ReRun] and have another job to keep him happy. Sometimes these old racehorses are so used to being at the track, you would think they would like to be retired and not do anything and live out their days, but some need something to keep them busy."
Not surprisingly, given the length of time he spent in Brown's shedrow, the trainer and his family and his employees became very fond of Spring to the Sky, and it was an emotional day when he departed his longtime home at Belmont.
"He has a big fan club and is part of the family for us. He and my son, Nicholas, are the same age, so they kind of grew up together," Brown said. "My son is always at the barn, so Nicholas and [Spring to the Sky] have always been there together. It was tough when he left."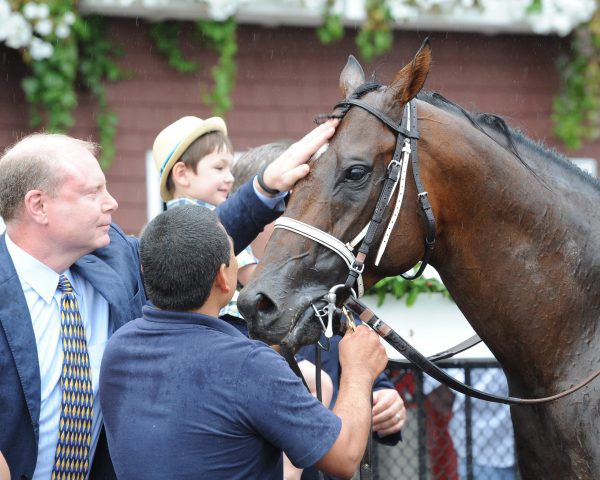 Coglianese/NYRA Photo
But Spring to the Sky is already bonding and creating memories for the people in his new life at ReRun, which operates as a nonprofit organization for the rehabilitation, retraining, and adoption of off-track Thoroughbreds, as well as serving as a sanctuary for horses who don't get adopted. Lisa Molloy, ReRun's executive director, estimates 80 to 90 horses have been adopted through her program in 2019, and another 100 were accepted into the program. The majority of the horses who fill ReRun's 45 stalls are from NYRA tracks.
Spring to the Sky, who is diminutive in size but has a big personality, has a been a hit with visitors at ReRun, including a group of employees from a local pharmaceutical company who recently held a volunteer day at ReRun to paint fences.
"[Spring to the Sky] is awfully sweet and really good-natured," Molloy said. "He loves when visitors come. We had a pharmaceutical company come and also a couple of high school classes have been here. He always patiently stands and poses for photos and then the visitors stuff him with carrots."
While Spring to the Sky has yet to be ridden at ReRun, he has been enjoying his turnout time in the snow, and Molloy plans to get him under tack soon. She said it's possible he could be re-trained for adoption, or become a permanent member of ReRun, joining Saratoga Snacks and West Hills Giant, among other well-known NYRA competitors, who have found their forever home there.
"Once we get him back in tack, we will see what he does. In the meantime, he's pretty happy with his lot," Molloy said with a hearty laugh. "If he sees you or hears you, he will start calling out because he wants alfalfa. He's awfully spoiled."
Even as a youngster, Spring to the Sky had a personality that demanded attention. One of McCarthy's earliest memories of the horse was when he received an email from trainer Eddie Woods, who was overseeing the yet-to-be-named yearling's early conditioning in Ocala, Florida.
"Probably within a month of him being in Ocala, Eddie told me he called him 'The Little Bull.' He said he was bossing around all the other horses in the field," McCarthy recalled. "Eddie saw attitude in him. We kind of knew we had something [special] even then."
In early spring of 2011, not long before Spring to the Sky arrived in Brown's barn, McCarthy's father died. It was a time of sadness, but also a time of renewal for McCarthy and his family, thanks to a special horse with a special name, who was about to embark on a fabulous career, and is now enjoying a lovely retirement.