Before volunteering at TAA-accredited Caribbean Thoroughbred Aftercare in Puerto Rico, Ariana Rodriguez was browsing the organization's website and taking a look at the horses she would be working with.
While she soon realized that the horse who initially caught her attention wasn't going to be a good fit for her, another off-track Thoroughbred quickly made her way into Rodriguez's heart.
That horse was By My Side, a Florida-bred daughter of The Kaiser who made the majority of her 60 starts at Camarero. She visited the winner's circle eight times and accumulated $90,226 in earnings before retiring from racing in August of 2017.
With a background in Paso Finos, Rodriguez's first OTTB ride was aboard the mare. And that ride sealed the deal.
"The first time I ever rode an OTTB was her," she said. "I went on a trail ride and I knew she was the one. She's a difficult mare but I like a challenge. I see myself reflected in her. She's helped me improve myself as a rider and trainer."
Now, two years after the adoption, By My Side and Rodriguez are enjoying trail riding and hanging out with their friends, both human and equine.
"She's a trail horse and a pony horse," she said. "We ride with friends and have fun together. By My Side free roams on the farm and hangs out with every horse."
And although By My Side is a chestnut mare and can be difficult at times, Rodriguez says she's loyal and she has earned the mare's trust.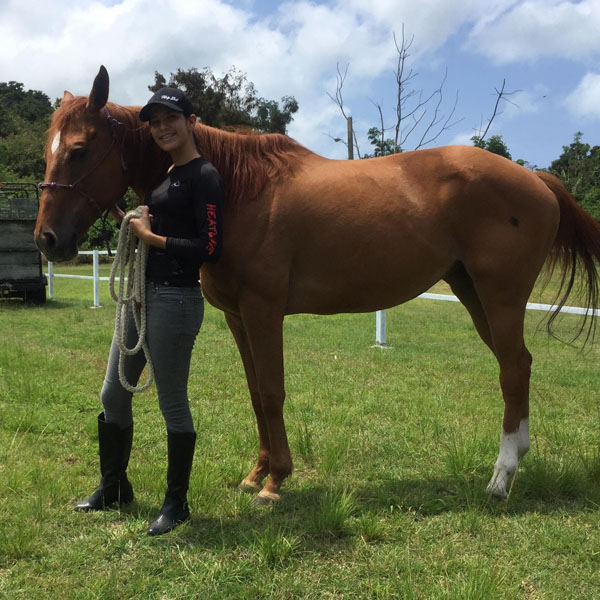 "She's a chestnut mare, and we all know their reputation, and By My Side is the definition of one," she said. "Even though she can be really hard to work or ride, she's the most loving mare ever. She is always seeking attention and treats. If you call her, she'll run from wherever she is to come to you. She is the most loyal horse and protective of me. Once a horse got really frisky with me on the ground, and she came running toward me protecting me from the horse."
"She's just amazing and I'm blessed to have her as my first OTTB."