Florida breeder Joanna Reisler had been thrilled to watch Joe Pike , a son of Benny the Bull who she bred and raised, blossom from a $7,500 sale yearling to a stakes winner in Puerto Rico.
Purchased and raced initially by high-profile Puerto Rican trainer Ramon Morales, Joe Pike won four of five starts at 2 and was stakes-placed. At 3, he won six of seven starts and won the Copa Quatro de Julio Stakes, which is considered a grade 1 stakes in Puerto Rico but is an ungraded, black-type stakes internationally. In the one race at 3 that he didn't win, he was second in the Clasico Jose Celso Barbosa Stakes, another Puerto Rican-only grade 1.
"He was kind of a celebrity," recalled Reisler. "He had a following and a little fan club."
Joe Pike kept winning and placing in races through his 5-year-old season for a variety of owners and trainers. In 2018, when he was 7 and already earned more than $130,000, his form took a turn for the worse. Reisler knew racehorses that go off-form in Puerto Rico face few good options.
Concerned about Joe Pike's future, Reisler contacted Kelley Stobie, co-founder of the TAA-accredited Caribbean Thoroughbred Aftercare program, in 2018 and told Stobie she was willing to take Joe Pike back if the owner no longer wanted to race him. The horse's owner told Stobie at the time he had plans to stand Joe Pike as a stallion, a plan that ultimately did not pan out because the horse was a reluctant breeder. Two and half months ago, Reisler got a call from Stobie who told her the horse had been turned over to the CTA and wanted to know if Reisler still wanted him back.
Absolutely, was Reisler's answer. The challenge, however, would be covering the more than $3,800 required to get Joe Pike through quarantine, flown to Miami, and then vanned from Miami to Reisler's 10-acre farm near Ocala.
"I can certainly afford to keep him, but I could not pull together the money necessary for the shipping and quarantine," Reisler said.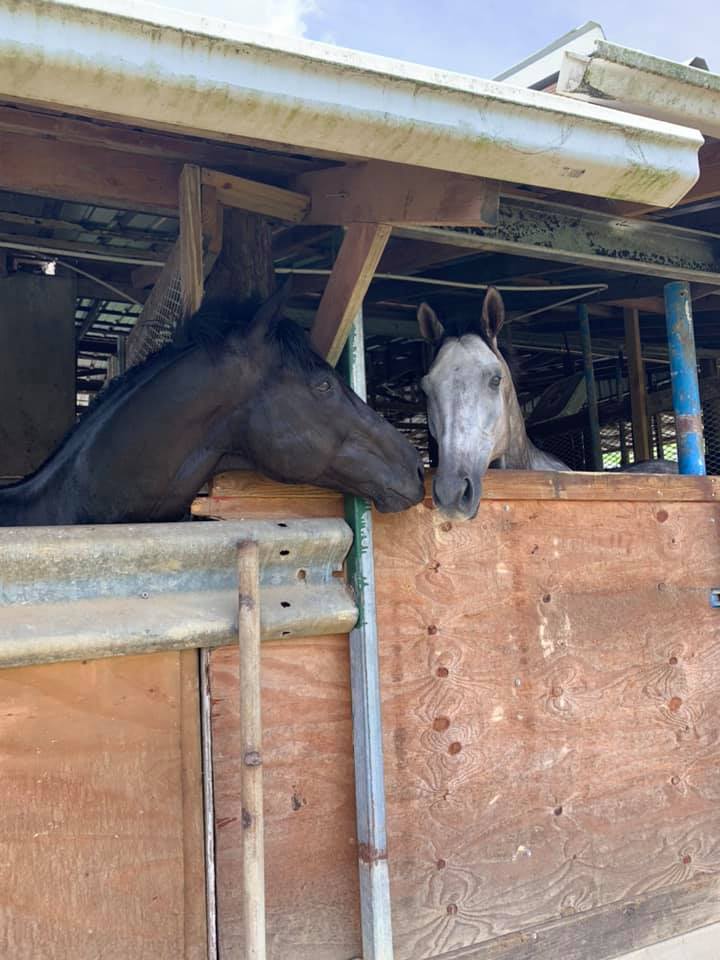 This is the quandary CTA faces every day. Shouldering the escalating cost of managing and shipping horses back to the U.S. that don't have a future in racing but could have useful second careers, like Joe Pike. In the recent past, the association would have 40 such horses to manage annually, but a spike in the importing of inexpensive racehorses from the States has dramatically increased the demand for its services. As of June 21, the CTA has already taken in 38 horses, according to Stobie. An increase in financial support has not accompanied the increased demand.
The CTA does get a portion of money wagered at Camarero Racetrack, but its 3% cut is on the on-track handle only, while the vast majority of wagers are made at simulcast outlets and through advance-deposit wagering. The CTA's portion from the on-track handle is about $1,000 per month, according to Stobie. The CTA's annual operating budget is around $270,000. Last year, according to a June 4 article published by the Center for Investigative Journalism in Puerto Rico, the organization received $5,580 from Camarero, $7,912 from the Puerto Rico Breeders' Association, and $27,977 from the Puerto Rico Horse Owners Association. CTA also got $60,000 from the Gaming Commission allocated over four years. In total, these sources cover around 21% of the CTA's total operating costs and the shortfall has to be made up for through donations. The organization does get grants and donations from the U.S. horse community.
"Joe Pike gave his all as a racehorse and was successful, he doesn't deserve to be euthanized," said Stobie.
Hundreds of racehorses in Puerto Rico don't have the options afforded Joe Pike. The Center for Investigative Journalism in its recent article about problems within the island's horse racing industry reported more than 1,400 horses were euthanized from 2015-20 at the Equestrian Confederation Clinic, the larger of two veterinary clinics operating in the stabling area of Camarero. Why each horse was euthanized during that six-year period is not documented, though a communication from the Puerto Rico Gaming Commission reportedly indicates this documentation will be required beginning this year, according to the report. So while some horses were euthanized due to fractures or other career-ending injuries, many were euthanized because they have chronic injuries and are no longer competitive, according to several Puerto Rican owners and breeders. These owners and breeders told BloodHorse about 30 horses are euthanized each month.
"Each owner treats their horse how they want," Orlando Rivera Carrión, executive director for the Puerto Rico Gaming Commission, told the Center for Investigative Journalism. "Those who have many resources treat their horses well. Those who have few resources, treat them with few resources."
With Reisler willing to take Joe Pike, the CTA bore the cost of the blood work and vaccinations necessary to be sure the horse was healthy and had him gelded. He was then doctored and monitored to be sure he could withstand the rigors of shipping. Stobie said each time the CTA puts a horse in quarantine, it puts out a call for funding for its Flight Fund. She said the donations rarely equal the cost for each horse, which forces the CTA to dig into its reserves.
Reisler welcomed Joe Pike back home June 19. Without the CTA, she said, bringing the old warrior to the States likely would not have happened.
"The CTA really did a great job staying in touch with the owner in Puerto Rico and reminding him he had other options if he no longer wanted the horse. Then once the horse was surrendered, they made sure he was healthy enough for the flight," Reisler said. "He has had some soundness problems in the past and he has a softball-sized ankle, but now he is moving sound."
Joe Pike joins a couple of other retired geldings that Reisler has on her farm. Reisler said the 10-year-old might have a future eventually as a pony to the yearlings she breaks on her farm.
"The geldings pensioned on the farm are horses that treated me well and don't owe me anything," Reisler said.
Reisler named Joe Pike after a private eye and ex-Marine featured in suspense novels by writer Robert Crais. The owner/breeder said the name proved to be a perfect fit.
"You have to admire him. He was an honest horse, a loyal horse, and just a great horse," Reisler said. "The character in the novels was invincible and that's him, too."
Photo: Caribbean Thoroughbred Aftercare