When it comes to volunteering at a Thoroughbred adoption nonprofit, the ultimate reward for volunteers can be spending time with the four-legged creatures in their care.
Before stepping foot on the grounds of TAA-accredited After the Races, volunteer Susan Miller repeatedly told herself that taking a horse home was out of the question. The time spent around the horses would be enough of a prize for her hard work.
That mantra didn't last long as she immediately fell in love with a bay filly, named The Cake Is a Lie, who was rehabbing an injury.
"My first day there I fell head over heels for this filly, despite having told myself I was not under any circumstances taking a horse home," Miller said. "'Cake' was rehabbing a bowed tendon, so there wasn't much interest in her.
The New York-bred daughter of Sir Whimsey found the winner's circle four times in 13 starts. She was injured and vanned off in her last start, which took place in August of 2018 at Monmouth Park.
"She stayed at After The Races, and I kept volunteering there, loving on her as much as I could, and daydreaming about adopting her," Miller said.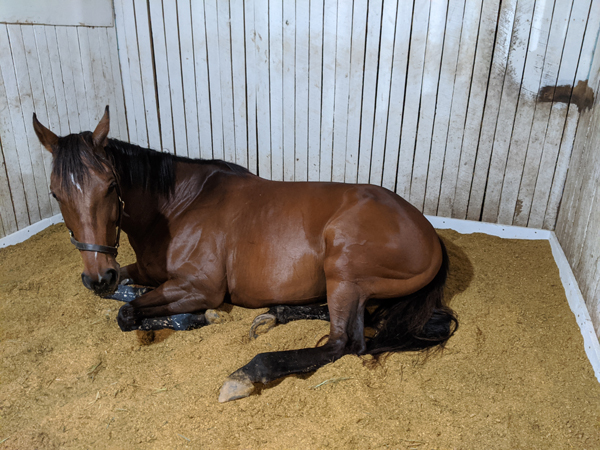 After months of volunteering and growing closer to Cake, Miller and her husband were on the move to Kentucky after her husband accepted a new job. Not wanting to leave her friend behind, she adopted Cake to bring along for the journey.
"I kept telling myself, 'She's just a gangly bay filly, nothing special,' but it didn't work," Miller said. "There's just something special about her and we clicked. She's wonderful. She lives at my house with my other Thoroughbred.
"Her bowed tendon healed nicely, she's grown and filled out into a huge, strong, shiny beauty," she added. "Most importantly, her personality has really blossomed. She is quirky and intense but also fun, sweet, and caring."
Now that the rehab is finished, Cake and Miller are taking it one day at a time with retraining, as they focus on lower-level dressage, trail riding, and learning a few tricks.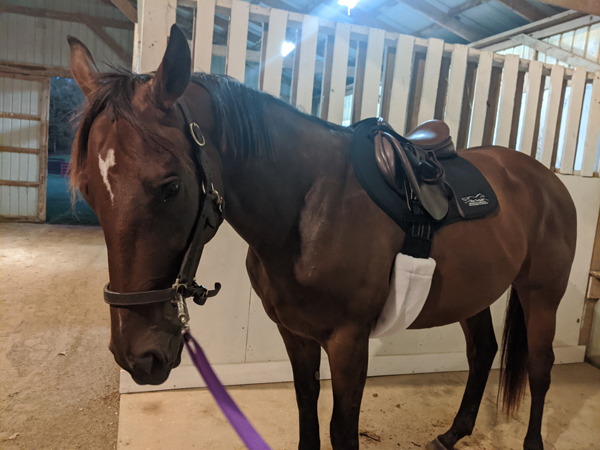 "She is the first OTTB I've retrained by myself and she is teaching me so much and becoming a really fun horse to ride," Miller said. "My biggest goal is just for her to be happy and healthy and enjoy our time together.
"She's already worked hard and given a lot for people, and I value her comfort and the relationship I have with her more than riding achievements."
While Miller says she'd love to eventually dabble in eventing or fox hunting if it's in Cake's wheelhouse, she's just incredibly thankful for the organization that allowed her to find her perfect equine partner.
"I am so incredibly grateful for this horse and to After The Races for all the fantastic work they do on behalf of OTTBs," she said.