Testimonials Test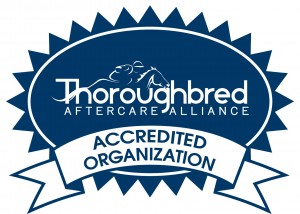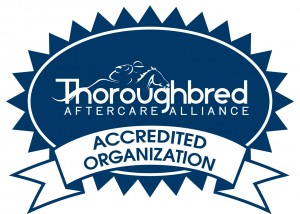 Below is a listing of Thoroughbred aftercare organizations accredited by the Thoroughbred Aftercare Alliance.
Following a detailed accreditation process and careful onsite inspection by TAA inspectors, each of these organizations was determined to have met or exceeded TAA requirements in the areas of operations, education, horse care management, facility standards and services, and adoption policies and protocols. These organizations are now eligible to receive financial grants from the TAA to support the ongoing care of retired Thoroughbreds.
For more information on TAA accreditation, please click here.
| | | | |
| --- | --- | --- | --- |
| Organization | Location | Website URL | Aftercare Services |
| After The Homestretch- Arizona | Glendale, AZ | www.afterthehomestretchaz.org | Retraining, Adoption |
| After the Races | Nottingham, PA | www.aftertheraces.org | Rehab, Retraining, Adoption |
| Akindale Thoroughbred Rescue | Pawling, NY | www.akindalehorserescue.org | Sanctuary, Rehab, Retraining, Adoption |
| Beyond The Roses Equine Rescue & Retirement | Emmett, MI | www.beyondtherosesequine.org | Sanctuary, Rehab, Adoption |
| Bright Futures Farm | Cochranton , PA | www.brightfuturesfarm.org | Sanctuary, Rehab, Retraining, Adoption |
| Brook Hill Retirement Center for Horses | Forest, VA | www.brookhillfarm.org | Sanctuary, Rehab, Retraining, Adoption, Other |
| CANTER California | Los Gatos, CA | www.canterusa.org/california | Rehab, Retraining, Adoption |
| CANTER Colorado | Centennial, CO | www.canterusa.org/colorado | Retraining, Adoption |
| CANTER Kentucky | Louisville, KY | www.canterusa.org/kentucky | Rehab, Retraining, Adoption |
| CANTER Michigan | Commerce Township, MI | www.canterusa.org/michigan | Rehab, Retraining, Adoption |
| CANTER Ohio | Mentor, OH | www.canterusa.org/ohio | Rehab, Retraining, Adoption |
| Days End Farm Horse Rescue | Woodbine, MD | www.defhr.org | Rehab, Retraining, Adoption |
| Equestrian Inc. | Tampa, FL | www.equestrianinc.org | Sanctuary, Rehab, Retraining, Adoption |
| Equine Advocates | Chatham, NY | www.equineadvocates.org | Sanctuary, Rehab, Retraining, Adoption |
| Equine Encore Foundation | Tucson, AZ | www.equineencorefoundation.org | Sanctuary, Adoption |
| Equine Rescue of Aiken | Aiken, SC | www.aikenequinerescue.com | Sanctuary, Rehab, Retraining, Adoption |
| Final Furlong | Ocala, FL | www.niallbrennan.com/ffhr.html | Sanctuary, Rehab, Retraining, Adoption |
| Finger Lakes Thoroughbred Adoption Program | Farmington, NY | www.fltap.org | Retraining, Adoption |
| Florida Thoroughbred Retirement and Adoptive Care Program | Palm City, FL | www.fltrac.org | Sanctuary, Rehab, Retraining, Adoption |
| Friends of Ferdinand | Indianapolis, IN | www.friendsofferdinand.com | Sanctuary, Rehab, Retraining, Adoption |
| Galloping Out (Illinois Thoroughbred Horsemen's Association Thoroughbred Rescue Fund) | North Riverside, IL | www.itharacing.com/galloping-out/about-galloping-out | Rehab, Retraining, Adoption |
| Glen Ellen Vocational Academy | Glen Ellen, CA | www.glenellenfarms.com/GEVA | Sanctuary, Rehab, Retraining, Adoption |
| Harmony and Hope Horse Haven | Rodeo, NM | www.harmonyandhopehorsehaven.org | Sanctuary |
| Heaven Can Wait | San Miguel, CA | www.heavencanwait.us | Sanctuary, Rehab |
| Hidden Acres Rescue for Thoroughbreds | Cocoa, FL | www.hartforhorses.org | Rehab, Retraining, Adoption |
| Humanity for Horses | Mt. Shasta, CA | www.humanityforhorses.org | Sanctuary, Rehab |
| Illinois Equine Humane Center | Big Rock, IL | www.ilehc.org | Sanctuary, Rehab, Retraining, Adoption |
| Kentucky Equine Humane Center | Nicholasville, KY | www.kyehc.org | Rehab, Retraining, Adoption |
| LoneStar Outreach to Place Ex-Racers (LOPE) | Driftwood, TX | www.lopetx.org | Rehab, Retraining, Adoption, Other |
| Long Run Thoroughbred Retirement Society | Toronto, ON | www.longrunretirement.com | Sanctuary, Rehab, Retraining, Adoption |
| Los Angeles Pet Rescue (Farralone Farm) | Chatsworth, CA | www.farralonefarms.com | Rehab, Retraining, Adoption |
| Lucky Orphans Horse Rescue | Millbrook, NY | www.luckyorphanshorserescue.org | Sanctuary, Rehab, Other |
| Maker's Mark Secretariat Center | Lexington, KY | www.secretariatcenter.org | Rehab, Retraining, Adoption |
| MidAtlantic Horse Rescue | Chesapeake City, MD | www.midatlantichorserescue.org | Sanctuary, Rehab, Retraining, Adoption |
| Mitchell Farm Equine Retirement | Salem, CT | www.mitchellfarm.org | Sanctuary |
| Neigh Savers Foundation | Walnut Creek, CA | www.neighsavers.org | Rehab, Retraining, Adoption |
| New Stride Thoroughbred Adoption Society | Abbotsford, BC | www.newstride.com | Sanctuary, Rehab, Retraining, Adoption |
| New Vocations Racehorse Adoption Program | Laura, OH | www.newvocations.org | Rehab, Retraining, Adoption |
| Oklahoma Thoroughbred Retirement Program | Blanchard, OK | www.otrp.info | Sanctuary, Rehab, Retraining, Adoption |
| Old Friends Equine Retirement | Georgetown, KY | www.oldfriendsequine.org | Sanctuary |
| Our Mims Retirement Haven | Paris, KY | www.ourmims.org | Sanctuary |
| Out Side In | Grand Haven, MI | www.outsideinstables.com | Rehab, Retraining, Adoption |
| R.A.C.E. Fund | Harrisburg, PA | www.racefund.org | Sanctuary, Rehab, Retraining, Adoption |
| Redwings Horse Sanctuary (Horse Power Sanctuaries) | Lockwood, CA | www.redwingshorsesanctuary.org | Sanctuary, Rehab, Retraining, Adoption |
| Remember Me Rescue | Burleson, TX | www.teamkeen.com | Sanctuary, Rehab, Retraining, Adoption |
| ReRun | East Greenbush, NY | www.rerunottb.com | Sanctuary, Retraining, Adoption |
| RVR Horse Rescue | Riverview, FL | www.rvrhorserescue.org | Sanctuary, Rehab, Retraining, Adoption |
| Second Chance Thoroughbreds | Spencer, NY | www.secondchancethoroughbreds.org | Rehab, Retraining, Adoption |
| Second Stride | Crestwood, KY | www.secondstride.org | Rehab, Retraining, Adoption |
| South Florida SPCA | Homestead, FL | www.spca-sofla.org | Rehab, Retraining, Adoption |
| South Jersey Thoroughbred Rescue | Pennington, NJ | www.sjtbdoption.org | Rehab, Retraining, Adoption |
| Southern California Thoroughbred Rescue | Norco, CA | www.sctbrescue.org | Sanctuary, Rehab, Retraining, Adoption |
| Square Peg Foundation | Half Moon Bay, CA | www.squarepegfoundation.org | Sanctuary, Rehab, Retraining, Adoption, Other |
| The Exceller Fund | Lexington, KY | www.excellerfund.org | Sanctuary, Rehab, Retraining, Adoption |
| The Foxie G Foundation | Libertytown, MD | www.thefoxiegfoundation.org | Sanctuary, Rehab, Retraining, Adoption |
| Thoroughbred Athletes | Guthrie, OK | www.thoroughbred-athletes.com | Rehab, Retraining, Adoption |
| Thoroughbred Placement Resources | Upper Marlboro, MD | www.goodhorse.org | Sanctuary, Rehab, Retraining, Adoption |
| Thoroughbred Rehab Center | Bradbury, CA | www.tbrci.org | Rehab, Adoptions |
| Thoroughbred Retirement Foundation | Saratoga Springs, NY | www.trfinc.org | Sanctuary, Rehab, Retraining, Adoption |
| Thoroughbred Retirement of Tampa | Oldsmar, FL | www.tampatrot.org | Rehab, Retraining, Adoption |
| Tranquility Farm (The Harry A Biszantz Memorial Center) | Cottonwood, CA | www.tranquilityfarmtbs.org | Sanctuary |
| TROTT (Training Racehorses Off The Track) | Laguna Niguel, CA | www.trottusa.org | Rehab, Retraining, Adoption |
| United Pegasus Foundation | Tehachapi, CA | www.unitedpegasus.com | Sanctuary, Rehab, Retraining, Adoption |
| War Horses at Rose Bower | Appomattox, VA | www.warhorsesottbs.org | Sanctuary, Rehab, Retraining, Adoption |
Testimonials
The Thoroughbred Aftercare Alliance has brought many aftercare organizations together with their creative fundraising, stringent requirements and, most of all, their love for our great athletes. They are directly responsible for Old Friends' increase in the number of retirees that we care for and, once they get here, the quality of care they receive. We can't thank them enough.

Michael Blowen

Old Friends

The time and effort by all at TAA to better the lives of Thoroughbreds has accomplished so much for the retired and those still on the track. I am so proud to be an accredited member of Thoroughbred Aftercare Alliance.

Ruth Plenty

Harmony and Hope Horse Haven

Our goal is to continue to help the Thoroughbred horses that come to our farm, giving them a second chance through retraining or sanctuary. We applaud the efforts the Thoroughbred industry is taking to support the aftercare of the Thoroughbred horses that have served the industry.

Jo Anne Miller

Brook Hill Farm